Last Ditch Hoax Shows 'Confederate Flag Wearing Man' at Youngkin Rally – Then People Get a Closer Look at Him
The last ditch November surprise to paint Republican candidate for Virginia governor Glenn Youngkin as a white supremacist was launched at a political rally in Loudoun County on Monday night.
The Youngkin rally drew hundreds of raucous supporters and opponents of the radical agenda of former Virginia governor Terry McAuliffe.
Youngkin has experienced a surge in support in the closing weeks of the governor's race and is now running in a dead heat with McAuliffe. The latest Fox News poll even showed McAuliffe trailing by eight points in a survey of likely voters.
But as MSNBC covered the Youngkin rally a suspiciously familiar tactic was deployed to slant the political candidate's optics on the verge of election night. A photo of a man with a confederate jacket at the rally appears to have been first posted on Twitter by WUSA (CBS affiliate) reporter Mike Valerio at 10:22 pm.
Within two minutes, an MSNBC reporter named Gary Grumbach (a 'usual suspect,' see more later) had reposted it onto his Twitter account.
A Salon "investigative reporter" then picked up on it five minutes after Grumbach and showed a slightly different angle.
However, despite the man being right in front of the press area, no one got a clear shot of the man's face.
It looks like someone finally got a clean profile shot. There is some speculation about the man's identity, but it is currently unverified.
A closer look a the man's jacket reveals a few things: First of all, the confederate flag patch is freshly sewn on. Secondly, the jacket is new and appears to be newly bought or rarely worn. This does not fit the profile of a neo-confederate supporter who would go to a Youngkin rally.
Then there is the matter that none of the 'journalists' who hand-picked this one guy to portray as a Youngkin rally-goer were interested in interviewing this neo-confederate-supporting super-racist for a 'scoop' interview on why he was supported Youngkin. (Even though this would certainly be great for a soundbite on the morning shows.)
There is a critical point here that will go down as a media-driven 'hoax' regardless of the man's identity. It may turn out he is affiliated with the Lincoln Project, the Virginia Democrats or the McAuliffe campaign. He may not be – and it is a matter of time before his identity surfaces.
Ironically, Grumbach had earlier started an Internet firestorm by doing just that: He found an ostensible Trump supporter at a Michigan 'Save America' rally named Lori Levi and interviewed her. She made waves by expressing her view that a 'civil war' is coming.
The major context for the confederate-flag wearing man photo is that the media appear to have learned their lesson from a recent proven hoax that the Lincoln Project claimed credit for. On Friday, the media seized on a similar photo of unidentified persons bearing tiki torches in a reference to the Charlottesville incident.
The sunglasses and hats were not enough to veil their identities: Two were exposed as connected to Virginia Democrats.
Alec Sears, who has reported for the Daily Caller and Washington Examiner, broke the story wide open. The following is what Sears reported in a Twitter thread:
This is so clearly a political operation organized by @AdamParkhomenko it's not even funny.
And I have the receipts.
Notice that the only people interacting with this story are Democratic Political Operatives, all retweeted by Parkhomenko.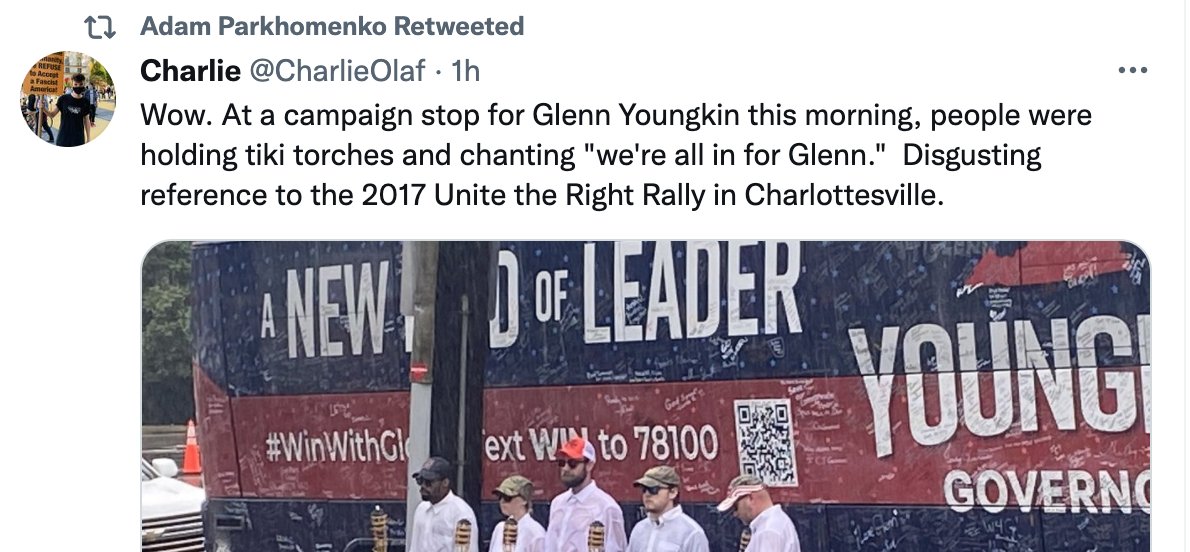 Let's take a look at this gentleman. He bears a strong resemblance to one Camden Layton, otherwise known as the finance director for @vayd.
Coincidence? I report, you decide.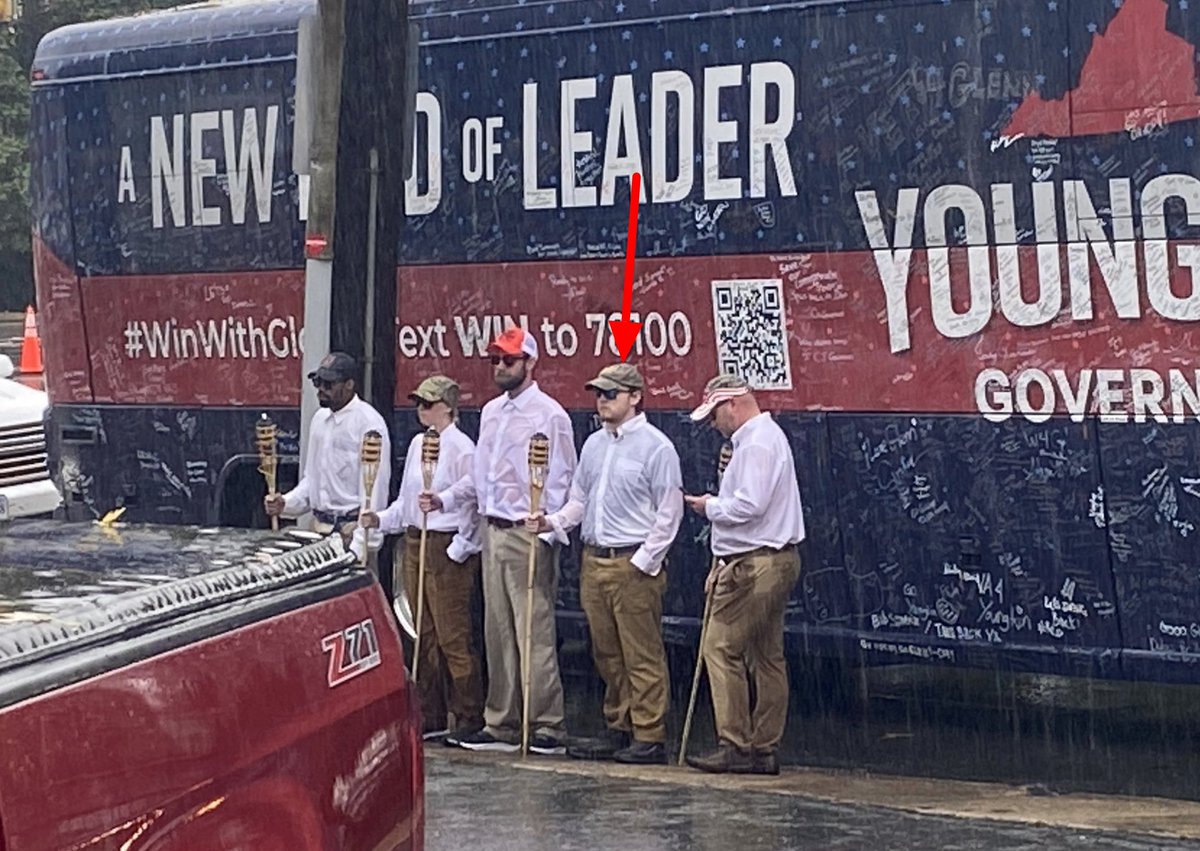 This gross false-flag operation reeks of desperation from the McAuliffe camp who is currently trailing Youngkin by 8 points.
A confident campaign would never resort to such gross measures. We have a good idea of who some of the other individuals are, and are working to confirm, but if you have any information do share 👀
🚨 I am now confident that we have identified the woman in this group of political actors as Colleen Wachenfeld, with @vademocrats.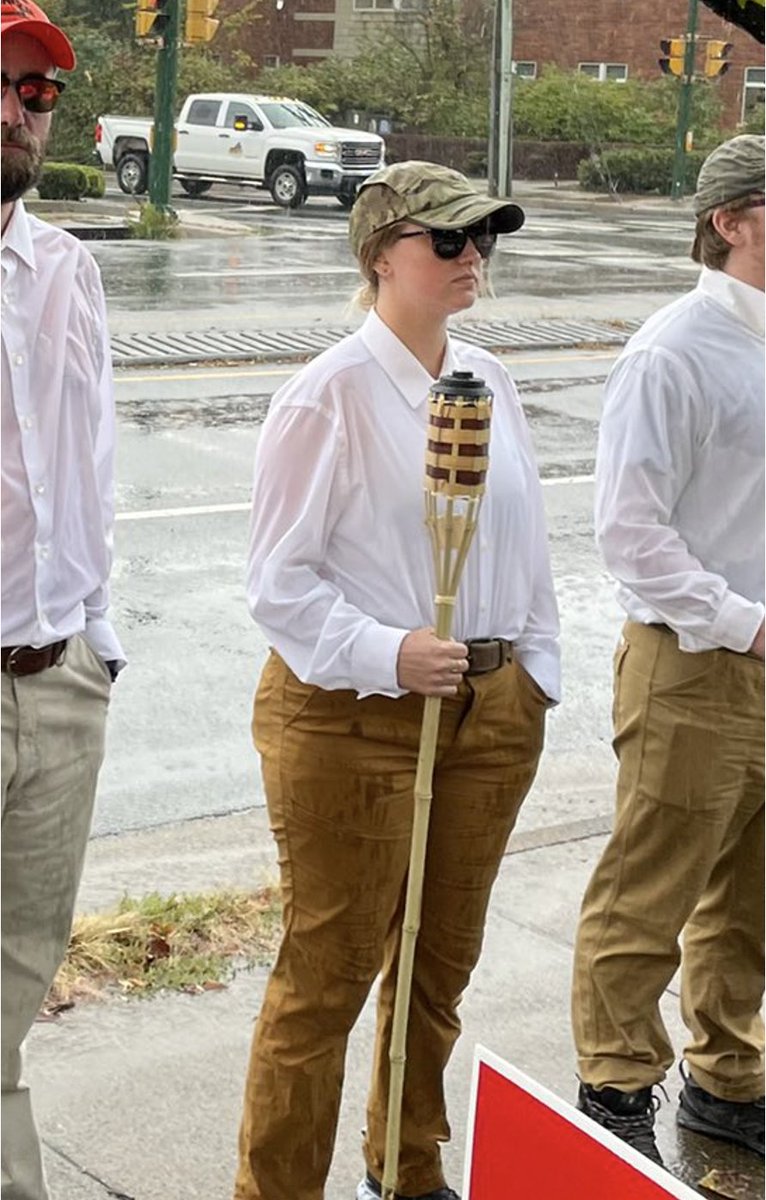 Private.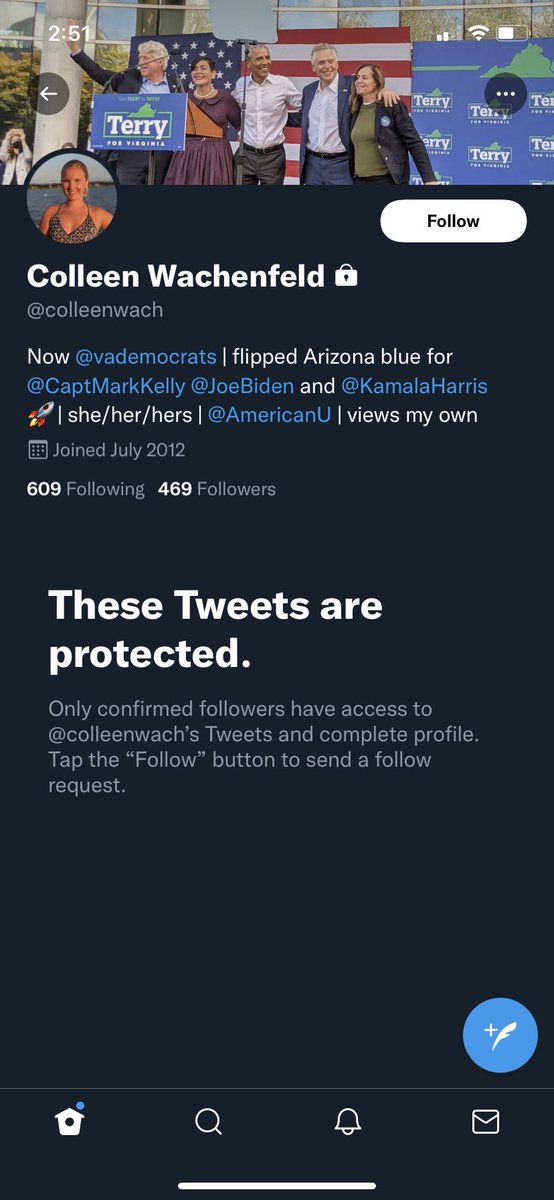 Thus concluded Alec Sears' thread. Sears' tweets did not trigger objections from the staffers, but instead they both made their social media accounts private.
Camden Layton, the Finance Director at Virginia Young Democrats mentioned above, locked his Twitter account after Sears' reporting.
Layton also privated his Instagram account.
There was also a presently unidentified African-American male who posed as a "white supremacist":
McAuliffe's campaign team and Virginia Democrats would later disavow any knowledge of the anti-Youngkin operation.
"What happened today in Charlottesville is disgusting and distasteful and the McAuliffe campaign condemns it in the strongest terms," McAuliffe's campaign manager Chris Bolling tweeted. "Those involved should immediately apologize."
The stunt was then claimed by a Democratic political operative named Lauren Windsor who said that she did it for the Lincoln Project.
However, as Becker News reported, there was another operative whose identity was verified as having participated in the hoax: Ian Golden. He had actually worked with Windsor to infiltrate the 'Justice for J6 rally' (Lauren Windsor pictured on left, Golden on right).
It appears that 'false flag' operations and media hoaxes are the best that Democrats can do to try to save their terrible candidates from justifiable voter backlash. But their pathetic party is only exposing itself as filled with manipulative and deceitful hacks. The question now arises: What other 'false flag' media hoaxes have the Democratic Party been running to deceive the American people?
Last Ditch Hoax Shows 'Confederate Flag Wearing Man' at Youngkin Rally – Then People Get a Closer Look at Him
Reviewed by
Your Destination
on
November 03, 2021
Rating: